These keto soup recipes are the ultimate keto comfort food recipes-in a bowl! Make tonight a crockpot soup night with one of these insanely delicious low carb soup recipes!
This post may contain affiliate links that help keep this content free. [Full Disclosure]
Everything tastes a little better on keto-including soup-thanks to all the heavy creams and fats the keto diet allows.
Hey, we cut the carbs, it's only fair we get a little something in return, and in this case, it's cream, cream cheeses, and butter!
Oh My!
What does this fabulous trifecta of fats do for us in fall? Well, it soups up our soup recipes that's for sure. Need more proof? Here are 22 keto soup recipes to prove my point. Enjoy any of these delicious recipes for dinner tonight!
You're going to love these keto soup recipes! Most are either easy crockpot set it and forget it kind of dinners or twenty-minute numbers nobody will believe are "diet." Please enjoy! Soups On!
22 Easy Keto Soup Recipes
Moment of Truth: Which one is your favorite?
Need More Keto Recipes?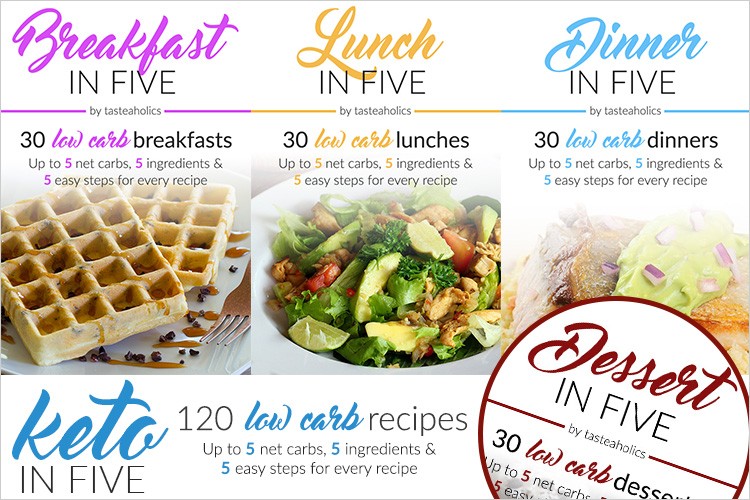 The key to success on the Keto Diet? Simplicity & Satisfaction! I've lost over 90 pounds on the keto diet & maintained my weight loss for over six years. Thanks in large part to Tasteaholics Keto in 5 Cookbooks! Each collection offers 30 breakfasts, 30 lunches, 30 dinners & 30 desserts with only 5 ingredients & 5 net carbs! They provide all the calorie & macronutrient info for you making it easier to track your meals along with helpful cooking tips & images – so you'll know what you're cooking!
Make life on the Keto diet easier & grab the Keto In Five Bundle! Satisfaction Guaranteed: Tastaholics offers a 365 Day Money Back Guarantee!
Don't Miss These Keto Recipes!
Don't Forget To Save These Easy Recipes!
And For Even More Low Carb Food Inspiration, Follow Me on Pinterest or Subscribe Below