These easy keto breakfast recipes are perfect for meal prep day! Make your busy mornings easier with this collection of low carb, make-ahead muffins, casseroles, & freezer-friendly cream cheese pancakes!
This post may contain affiliate links that help keep this content free. [Full Disclosure]
We all know breakfast is the most important meal of the day, but it's also the craziest most hectic time of the day. If you're trying to lose weight on the keto diet, and mornings aren't your jam, then you seriously need a few easy keto breakfast recipes that you can make ahead! Otherwise, you're setting yourself up for diet failure before the day has even gotten started!
RELATED: 10 Keto Meal Prep Tips You Haven't Seen Before
When I started the keto diet (way back in the pre-Pinterest stone ages) I knew nothing about meal prep. I knew nothing about cooking! I was raised in a what do you want for take out? home, so if I prepared anything more complicated than a boiled egg I thought I was Julia Child!
Eventually, I learned my way the stove and I lost 90 pounds and kept it off. (Before & After Weight Loss Photos) And yes, I'm proud of my weight loss success with keto but like anyone who has drastically changed with this diet will tell you, ultimately it's not about the number on the scale. It's about getting control of your life. That's why you're here, right? Or maybe you just wanted keto breakfast recipes…
What I've gathered here are 16 easy keto breakfast recipes for your weekly meal prep or plan. Of course, I've included a few breakfast casseroles, because they're the perfect make ahead recipes and Y'all, I'm from Mississippi-we live on casseroles here:) You can prep most of these on Sunday and then there will be almost nothing to do but eat when you wake up in the morning. Which is the idea, right?
16 Keto Breakfast Recipes
Easy Keto Breakfast Muffins With Sausage – Word To Your Mother
These Keto Breakfast Muffins with Sausage are the perfect low carb, high protein breakfast recipe-with under 2 net carbs per muffin! Bonus: You can easily make these ahead & freeze for later!!!! Get the recipe here
Southwestern Crustless Breakfast Tarts – Kalyn's Kitchen
Southwestern Crustless Breakfast Tarts make a healthy keto & gluten-free breakfast that's easy to meal prep and make ahead!
Keto Egg Muffins with Sausage & Veggies – Gluten Free Daddy

Keto Egg Muffins are the perfect keto meal prep recipe! They are easy to customize & they are loaded with protein that will keep you full until lunch!
The easiest way to make an egg on the keto diet! Oven Baked Eggs are ready in 15 minutes!
Super easy egg muffins – make ahead or in a hurry in 10 minutes!
This Low Carb Breakfast Casserole is perfect for meal prep! You can make it ahead or freeze it! Choose your favorite low carb keto veggies to go along with the breakfast sausage, eggs, and cheddar cheese.
At just over 2.1 net carbs per serving this Low Carb Breakfast Pizza makes a fabulous ketogenic breakfast or lunch. Wait, who are we kidding here? Eat it anytime! It's delicious! Eggs, heavy cream, sausage, peppers, and cheese come together to make a super filling low carb meal!
Cream Cheese Pancakes [Low Carb & Keto] – I Breathe I'm Hungry
Pancakes? On the keto diet? I'm not messing with your mind! These Cream Cheese Pancakes are low carb & keto friendly! Even better? You can whip them up in a few minutes! I know these aren't necessarily a meal prep recipe, but I couldn't resist. If you've been missing bread these pancakes will help curb your carb cravings!
Low carb ham, cheese, and green bell pepper Egg Muffins make an insanely Delicious breakfast to grab & go on busy mornings! Get the recipe here
Keto Savory Zucchini Muffins – Keto Diet App
Bacon, zucchini, cheddar and parmesan cheese come together to make these tasty keto breakfast muffins. Perfect make ahead & meal prep recipe with vegetarian options!
3 Ingredient Cauliflower Hashbrowns – Keto Connect
You're going to be eating a lot of cauliflower on the keto diet. This easy breakfast hash brown recipe may be your favorite!
Joy Filled Eats brings us a great make ahead recipe for busy mornings. Customize these Sausage Egg Muffins Add spicy sausage or add avocado for extra protein. It's easy to get bored with the same old same on the keto diet. Thankfully, Joy Filled Eats gives us several options with this recipe.
Easy coconut porridge is a high fiber, low carb keto cereal that's simple to make on the stovetop or Instant Pot! Get the recipe here
This cheesy keto breakfast casserole is packed with Italian flavor! Perfect for meal planning or make it for a brunch or get together!
My Favorite Keto Breakfast Sandwich – Hey Keto Mama
This is THE Keto breakfast sandwich! High in filling healthy fats and low in carbs! You won't miss the bread because you'll be too busy loving the sausage! Thanks to Hey Keto Mama for this fabulous breakfast recipe!
Want more EASY breakfast recipes?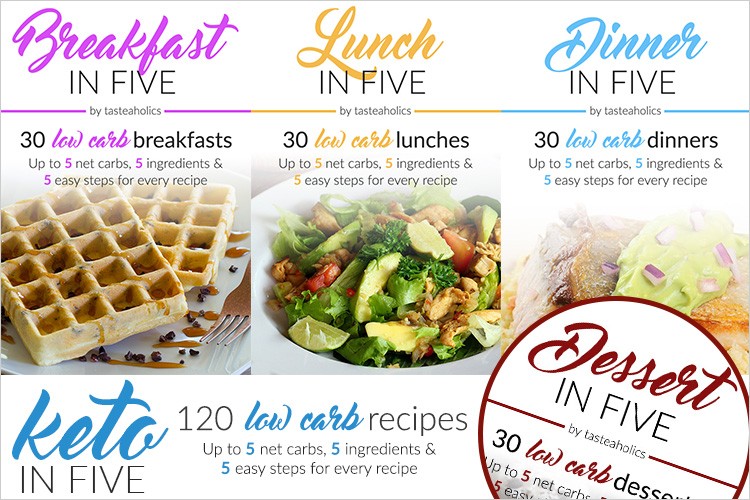 The key to success on the Keto Diet? Simplicity & Satisfaction! I've lost over 90 pounds on the keto diet & maintained my weight loss for over six years. Thanks in large part to Tasteaholics Keto in 5 Cookbooks! Each collection offers 30 breakfasts, 30 lunches, 30 dinners & 30 desserts with only 5 ingredients & 5 net carbs! They provide all the calorie & macronutrient info for you making it easier to track your meals along with helpful cooking tips & images – so you'll know what you're cooking!
Make life on the Keto diet easier & grab the Keto In Five Bundle! Satisfaction Guaranteed: Tastaholics offers a 365 Day Money Back Guarantee!
Don't forget to let me know which recipes worked for you! Leave a comment & tell me all about it!
Don't Miss These Keto Recipes!
Save these easy Keto Recipes!
For more low carb inspiration, follow my Keto Recipes Board!