These Weight Watchers meals with SmartPoints slow cook to perfection in your crockpot! If you're looking for easy WW dinners to help you lose weight – these slow cooking Weight Watchers meals are the best!
This post may contain affiliate links that help keep this content free. [Full Disclosure]
As you may know, Weight Watchers introduced the Freestyle program in 2017 – giving you even more healthy choices and zero point foods.
More zero point protein like skinless chicken, turkey, and fish were added to the list of foods to enjoy. Fresh, nutrient-dense vegetables like carrots, cauliflower, corn, and chickpeas are now included on the zero points menu to reflect a Weight Watchers diet that supports a clean eating lifestyle.
You'll see many of these zero-point ingredients in the following Weight Watchers crockpot recipes.
FYI: SmartPoints are still calculated based on calories, saturated fats, sugar, and protein. You can find those listed beside each recipe!
One thing I love about Weight Watchers is that you don't have to sign up to reap the benefits of the program.
I will tell you that your chances of succeeding are greater if you do attend meetings in some form of fashion-online or in person, but if that doesn't fit into your schedule or your budget that's perfectly fine.
As long as you eat what's allowed in your daily point "budget" you will see results!
You can find tons of Weight Watchers recipes, pre-packaged foods and more resources here to help you stay on track.
Try to find a friend (accountability partner) to give you moral support when you need it. Because you will need it!
See, I've lost 148 pounds and I know it isn't easy. But it is worth the effort!
While you're here – take a look at my other Weight Watchers recipe collections. You'll find more fabulous Weight Watchers meals with points!
55 Weight Watchers Recipes To Melt Away The Pounds (With SMARTPOINTS)
Weight Watchers Meals For Dinner With Points: 25 Fast & Fabulous Meals
70 Weight Watchers Meals with 7 Points or Less
And if you need a little motivation & don't we all? Read this story about how Weight Watchers got started – it's so inspiring!:)
28 Weight Watchers Crockpot Meals
Crack Chicken – 6 SmartPoints
It doesn't get any easier than this slow cooking chicken dinner! To make it Weight Watchers friendly, swap the full-fat cream and cheddar cheeses with low fat versions and you'll be all set for a dinner with 6 SmartPoints.
Slow Cooker Balsamic Chicken – 5 SmartPoints
An easy, low carb chicken dinner with chicken, balsamic vinegar, garlic, broth, and a couple of spices that takes less than 10 minutes to prep via Word To Your Mother Blog
There's a good reason this Weight Watchers crockpot recipe has been shared over & over again-it's FABULOUS! Maybe the sticky-sweet honey garlic sauce is the key? Or perhaps it's the fail-proof method of switching the slow cooker from high to low mid way that makes the chick so tender and juicy? Either way, if you haven't tried this Honey Garlic Chicken from Diethood you haven't lived! Make it tonight!
This is a fab recipe from the Skinnytaste cookbook! The original recipe calls for chicken thighs, but you're going to want to use breasts to keep the points at 0! This is a super easy Weight Watchers friendly recipe using bell peppers, onions, and spices & you need this recipe in your life!
Cheeseburger Soup – 6 SmartPoints
I originally made this to suit my low carb diet using full-fat cream and cheddar cheese and bacon, but to make it Weight Watchers friendly, you can swap the full-fat cheeses with low fat and use turkey bacon to make a fabulously easy dinner in the slow cooker, instant pot or stovetop with 6 SmartPoints.
A Weight Watchers crockpot recipe classic! Using ground turkey or lean ground beef, onion, seasonings, tomato sauce and black beans this healthy Taco Soup from Recipe Diaries is a crowd pleaser that's easy to prepare!
Mississippi Pot Roast – 8 SmartPoints
Another simple slow cooker dinner that's easy and low carb – with 8 SmartPoints via Word To Your Mother Blog
Italian turkey or chicken sausage with onions, bell peppers, mushrooms, basil, mozzarella and parmesan cheese combined with lasagna noodles in your crockpot to make a lighter version of Paula Dean's original recipe. Visit Simple Nourished Living to find out exactly how to execute this recipe!
If you're a fan of spinach dip you'll love this recipe from SkinnyMs! Using whole chicken breasts, spinach, onion, cream cheese, parmesan cheese, artichoke hearts and cherry tomatoes this Weight Watchers crockpot recipe packs in the flavor without using all of your points!
Shredded Chicken Chili – 8 SmartPoints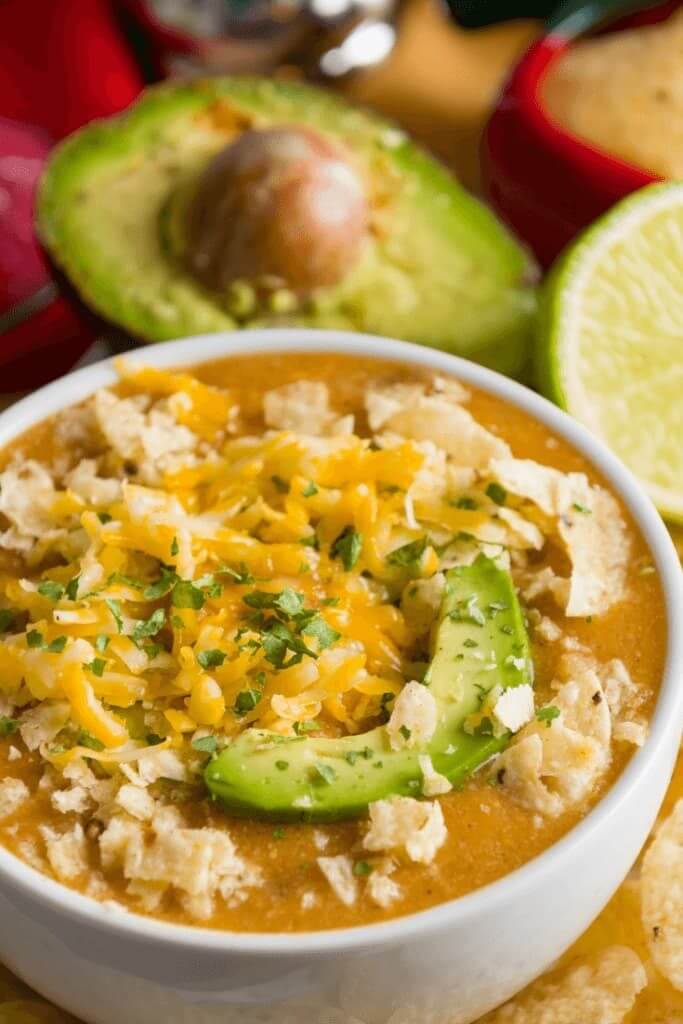 Chicken, cream cheese, and a hint of spice combine to create a low carb slow-cooking chili with 8 SmartPoints that is sure to become a favorite.
This deliciously easy Weight Watchers crockpot recipe is full of Mediterranean flavor and low on calories! All you need is a bag of boneless skinless chicken breasts, olive oil, lemon, and a few herbs and you're all set!
How??? Made with 99% fat free chicken breast and kidney beans (0 points value), Vicky over at Mess For Less created a fabulous chili that comes together fast for busy weeknights that tastes amazing! Top with Kraft Fat Free Cheddar Cheese if that's your jam-it's also 0 points for 1/4 cup per serving!
Weight Watchers Tuscan Chicken Pasta makes a fabulously easy weeknight meal! Check out the recipe on My Crazy Good Life!
These delicious chicken wings brought to you by A Mama Blessed have a fraction of the fat & calories of regular chicken wings without sacrificing any of the flavor!
This is an easy Weight Watchers crockpot recipe using pork tenderloin plus a little sugar free BBQ sauce and coleslaw mix. It's perfect for weekends or Sunday meal prep!
Forget about takeout! This healthy version of the To-Go classic Lo Mein is so much better for your diet & your wallet! This Weight Watchers crockpot recipe from Damn Delicious centers around 2 pounds of boneless pork shoulder surrounded by a delightful assortment of vegetables like broccoli, carrots, celery, and snow peas. This recipe looks & tastes like you worked at it all day, but it's an almost effortless meal & using the crockpot guarantees an easy clean up! Score!
Healthy and packed full of flavor, this lighter version of chicken verde makes a great family meal. All you need is boneless chicken breasts, jalapeños, onions, garlic, chicken broth, and a few seasonings I know you have in your pantry. Hop over to You Brew My Tea & find out exactly how to put it together!
This Weight Watchers crockpot recipe from Dash of Herbs is fabulous for busy weeknights! With only 20 minutes minutes prep time you can have a gourmet style meal ready for your family at the end on the day with very little effort!
Easy Weight Watchers chicken that you can make ahead and use in salads, soups, tacos, wraps, or chili.
Your family will never guess this Italian meatball soup is a diet recipe! Full of hearty meatballs and pasta and loaded with vegetables this Weight Watchers crockpot recipe is perfect for busy nights & makes a great lunch too!
Loaded with fiber & flavor, this crockpot recipe is the ultimate set it & forget it healthy meal! Cooking Canuck brings us a Weight Watchers dinner meal that's full of healthy protein without the fat! If you've never tried quinoa, this is a great starter recipe!
Ground beef, tomatoes, crisp bell peppers, onions, and Spanish rice with Italian seasoning come together in minutes & simmer to perfection in this healthy Weight Watchers crockpot meal.
Warning! This is not your average chili recipe! Jenna from Recipe Diaries has created a fabulous Weight Watchers crockpot recipe loaded with veggies and protein that comes in at 0 SmartPoints! With flavorful onions, red and yellow peppers, corn, jalapeño peppers, and a few spices added to lean ground turkey, beans, and diced tomatoes nobody will guess this is "diet" food!
Calling for only 4 ingredients, this Weight Watchers crockpot recipe from Emily Bites could not be any easier or versatile! Use this Slow Cooker Buffalo Chicken in sandwiches, quesadillas, salads, or lettuce wraps!
A healthy version of an old favorite. Create this meal with chicken breasts, gravy mix, low-sodium cream of chicken soup, and a few items from your spice cabinet.
A low-sodium vegetable broth makes this already healthy Weight Watchers crockpot recipe even better! Full of all the usual veggie soup suspects like carrots, celery, and onion, this Tomato Spinach Soup kicks things up a notch by adding spinach, garlic, and crushed red pepper to make the ordinary-extraordinary!
This healthy slow cooker beef recipe is both healthy and versatile. Enjoy in any Mexican inspired recipe like burritos, tacos, quesadillas, salads-the possibilities are endless! Bonus: This recipe makes enough to feed around 10 so it's a perfect budget friendly recipe that you can stretch into multiple recipes/meals!
Turkey sausage and chopped chicken with onion, bell peppers, celery, garlic, and brown rice make a yummy, healthy 5 Point gumbo!
Boneless chicken breasts, crisp red, yellow, and orange bell peppers, and yellow onion combined with apple and pineapple juices to create a flavorful chicken you can use in sandwiches, salads, or soups! Thanks to Weight Watchers Recipes for this new favorite!
This flavorful soup from Simple Nourished Living is the perfect recipe to double and freeze! Also known as the secret to Weight Watchers Weight maintenance, this one crockpot recipe you need to try!
Don't Miss These Recipes & Tips!
If you enjoyed this collection of Weight Watchers crockpot recipes, please share them on Pinterest!
Today's Quote: "If you look at what you have in life, you'll always have more. If you look at what you don't have in life, you'll never have enough."– Oprah Winfrey