If you're looking into the ketogenic diet, this beginners guide is the perfect place to start! After you read this keto diet menu plan, you will have everything you need to determine if the keto diet is the best option for you.
This post may contain affiliate links that help keep this content free. [Full Disclosure]
If you're looking for a way to lose weight without starving yourself, then a ketogenic diet is a healthy way to do it. I've lost over 90 pounds on the keto diet, and I'm telling you if a forty-year-old mother of three can do it you can too!
Here's the photographic evidence in case you need inspiration:)
The ketogenic diet is legit. It's not a fad or a trend despite what Instagram hashtags may lead you to believe.
And you know what?
It's not a vanity thing either – well, at least not 100%:)
Yes, you'll shed massive amounts of weight so you can fit into your skinny jeans that you can't even look at right now, but the keto diet also improves your health.
There may not be another diet as well researched – & legitimized – as the ketogenic diet – in randomized, controlled trials (AKA: dependable scientific studies) which prove a low carb diet helps reduce triglyceride levels, raise HDL (the good cholesterol), lower LDL (the "bad" cholesterol) – & by doing such helps with diabetes [Source], cardiovascular disease [Source] [Source], & possibly Alzheimer's [Source] – more studies need to be done here – and epilepsy, which makes perfect sense since the keto diet was created for patients/children with epilepsy in 1921.
My point is that the keto diet has been around a long time with an excellent track record.
I chose the keto diet because it made sense to me. And it worked for my body. Low carb diets work – but they're not for everyone. I'll try my best to break it down for you.
The ketogenic diet forces your body into a metabolic state known as ketosis.
Ketosis is a natural metabolic state – do not confuse ketosis for ketoacidosis (a complication of diabetes). Ketones are produced when you eat minimal amounts of carbohydrates and moderate amounts of protein. When your body doesn't have carbohydrates to burn for energy, it burns fat.
Break Down: On a keto diet, you are changing your body into a fat burning machine!
Ketogenic Diet Rules
As a rule I hate rules, but you've got to understand a few basic concepts of the ketogenic diet so you don't accidentally throw your diet off track!
Or worse – end up gaining weight.
Low carb diets have appetite suppressing effects – which is one of the main reasons they work – In other words, you won't be counting down the minutes until your next meal – or feel like you're starving yourself to death!
Keep Carbs Under 30
You need to limit your carbohydrate intake to 20-30 carbs per day.
You may be thinking that's an awfully wide range there, Heather. And you're right. It is a wide range because it depends on the individual!
So what are you supposed to do? Average it out & hope for the best?
Um, No.
Use this Free Keto Calculator to find out exactly what your number is. I'll wait right here while you do it!
With the keto diet, 5-10% of your calories come from carbohydrates, 15-30% of your calories should come from protein, and 60-75% of your calories are derived from fat.
So, where do you get your macros? (Fats, Proteins, Net Carbs) Well, there are tons of keto-friendly foods and even more delicious ways to prepare them that you almost forget about bread. Almost.:)
Foods Recommended on a Ketogenic Diet
Meat
Alligator
Bear
Beef
Bison
Boar
Buffalo
Deer
Buffalo
Elk
Lamb
Moose
Pork
Snake
Veal
Cured Meats
Pepperoni – Bacon – Hot Dogs – Deli Meat – Sausages – Salami
Poultry
Chicken
Hen
Quail
Turkey
Pheasant
Duck
Fish
Anchovies
Bass
Catfish
Cod
Halibut
Flounder
Eel
Haddock
Red Snapper
Sardines
Salmon
Sole
Trout
Tuna
Tilapia
Mackerel
Mahi Mahi
Orange Roughy
Shellfish
Abalone
Caviar
Crab
Clams
Lobster
Mussels
Octopus
Oysters
Scallops
Shrimp
Snails
Squid
Eggs
Chicken Eggs
Goose Eggs
Duck Eggs
Quail Eggs
Fruits
[MOST FRUIT IS TOO HIGH IN CARBS TO RISK IT! THESE ARE OK IN VERY SMALL AMOUNTS]
Avocados & Olives
Blackberries
Blueberries
Cranberries
Lemon
Lime
Raspberries
Strawberries
Vegetables
Arugula
Asparagus
Artichokes
Broccoli
Bell Peppers
Boy Choy
Brussels Sprouts
Cabbage
Cauliflower
Celery
Chard
Collard Greens
Cucumbers
Eggplant
Endives
Fennel
Green Beans
Jalapeño Peppers
Garlic
Iceberg Lettuce
Kale
Leeks
Mushrooms
Mustard Greens
Onions
Peppers
Scallions
Spaghetti Squash
Spinach
Swiss Chard
Tomatoes
Turnip Greens
Zucchini
Dairy
Butter
Blue Cheese
Brie
Cheddar
Cottage Cheese
Cream Cheese
Feta Cheese
Greek Yogurt
Goat Cheese
Half & Half
Heavy Whipping Cream
Mozzarella
Parmesan
Provolone
Ricotta
Swiss
Sour Cream
Nuts & Seeds
Almonds
Brazil Nuts
Cashews
Hazelnuts
Macadamias
Peanuts
Pecans
Pine Nuts
Pistachios
Pumpkin Seeds
Sesame Seed
Soy Nuts
Sunflower Seeds
Walnuts
Foods to Avoid on a Ketogenic Diet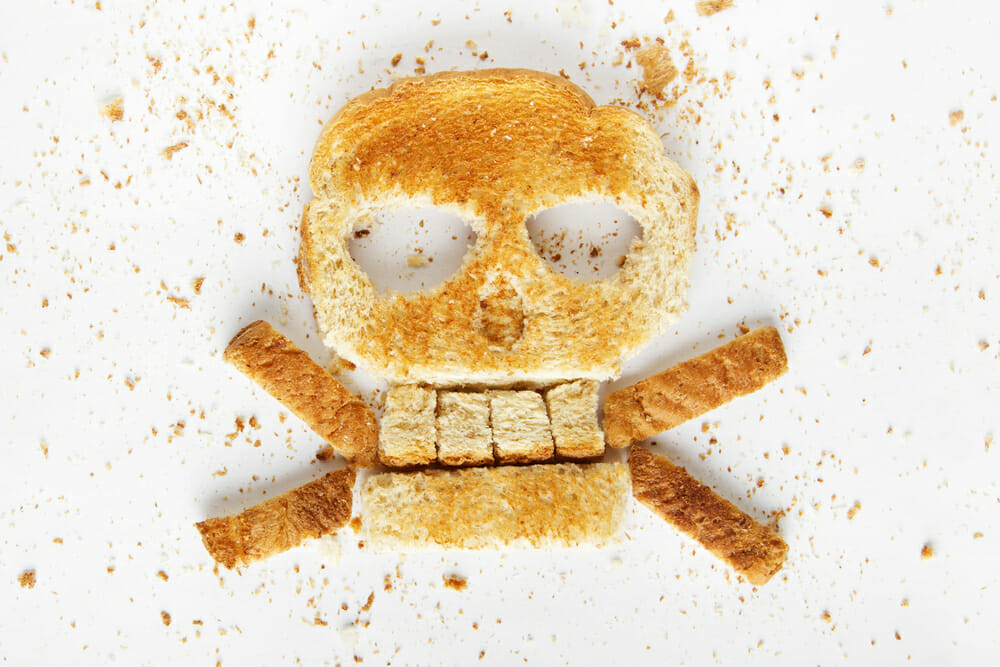 Grains
Pasta
Rice
Wheat
Oats
Barley
Rye
Corn
Beer
Quinoa
Couscous
Rice Flour
Bran
Buckwheat
Millet
White Flour
Wheat Flour
*Most Flours As A Rule
Sugar
SUGAR IS NOT ALLOWED! AVOID THESE COMMON SUGAR FILLED FOODS!
Sodas
Juice
Sports Drinks
Chocolate
Ice Cream
Cookies
Candy
Fruit Juice
Avoid These Ingredients
White Sugar
Agave
Brown Sugar
Corn Syrup
Coconut Sugar
Fructose
Dextrose
Lactose
Glucose
Honey
Maple Syrup
Fruit to Avoid
Canned Fruit
Apples
Orange
Bananas
Kiwi
Grapes
Peaches
Watermelon
NO Processed Foods! If it comes in a bag or a box it's probably processed food which is NOT on the keto diet!
Stay Away From
Bread
Cereal
Cakes
Chips
Pastries
Pretzels
Pancakes
Snack Bars
Most Sauces
Crackers
Baked Goods
Muffins
Ice Cream
Avoid Milk
Both full & low-fat milk are not allowed as they are high in carbs
Legumes
Avoid All Beans, Lentils & Soybeans on the Keto Diet!
No Chickpeas
No Baked Beans
No Black Beans
No Pinto Beans
No Kidney Beans
No Lima Beans
*Exception for Green Beans-you can have those!
If you'd like a free downloadable printer-friendly copy of this list, plus more in-depth information on what to eat (including snacks!), please click here!
How Much Weight Will I Lose?
Weight loss varies from one person to another-everyone's body is different, y'all! If you have a lot of weight to lose (like I did), you may notice more weight loss at the beginning of your diet. The average weight loss on the keto diet after the first week is usually around 10 pounds.
Now please don't get too excited.
I'm about to bring you down.
This initial weight loss is water weight.
I know, I know, weight is weight…
See, the keto diet causes you to drop the water weight fast because you're cutting your carbs dramatically. And while you may not be losing fat, this water weight loss is a good sign that your body has entered the ultimate fat burning mode: ketosis!
7 Day Keto Meal Plan
I've been in your shoes and I know starting a new diet is a challange. There's a lot to learn and a ton of recipes to scroll through on Pinterest! I could spend all day pinning.
Moment of truth: I have.
But you know what? My unhealthy obsession with Pinteresty things helped me find these recipes for you to make starting the ketogenic diet a little more manageable!
I'm not going to lie to you-planning keto meals and shopping lists takes time and work – but it can be done. Even on a budget:)
If you're already too busy for words and you struggle with meal planning, don't worry! You've got options.
1. Do It Yourself
If you go the DIY route – you can find a low carb recipe for literally every meal – breakfast – lunch – dinner – snacks – appetizers – & – my favorite meal of the day – dessert – on this page where I have indexed every article – recipe – & recipe round-up I have ever written. At last count there were over 500 keto recipes:)
2. Get A Meal Plan Delivered To Your Inbox
Ok. So, I don't do a lot of selling here – unless the product is LEGIT. As in, I use it – I believe in it – & I know it will help you. I recommend 2 Keto Meal Plans – Tastaholics Weekly Meal Plans & Healthful Pursuit's Balanced Weekly Meal Plans. Both make life easier. You can try them for free & both give money back guarantees – which I appreciate – but never use:) ***If you have food sensitivities & allergies – I'd lean towards the Healthful Pursuit option.
Here's The Try Low Carb Weekly Meal Plan Option

And Here's The Healthful Pursuit Option
If you're just dipping your toe into the ketogenic diet & don't want to sign up for anything yet – I understand. Here are some fabulous beginner – style keto recipes to get you started – for free:)
Ketogenic Breakfast Recipes
Ketogenic Lunch Recipes
Ketogenic Dinner Recipes
Desserts
---
Did I Miss Anything?
Do you have enough information to decide if the keto diet is right for you?
Or are you still on the fence?
Either way, please let me know by leaving a comment below!
Cookbooks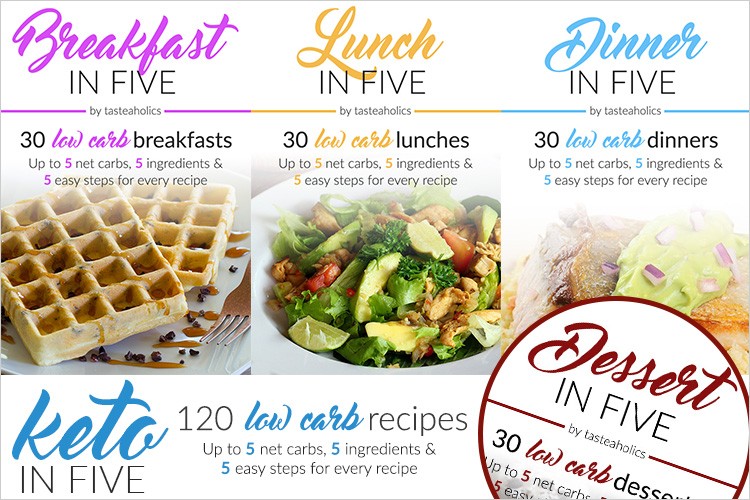 If you're stuck between Do I Want A Meal Plan & Doing It All Yourself – you may want to check out these Keto In Five Cookbooks These Are Not your Grandmother's Cookbooks-You Can download Them To Any device!
Each offers 30 breakfasts, 30 lunches, 30 dinners & 30 desserts with only 5 ingredients & 5 net carbs – with all of the macronutrient info – making it easier to track your meals. Oh, & the food is good:) You can get them here
More Must-Have Keto Resources
Total Keto For Beginners – A detailed deep dive into the keto diet for beginners. This will help you decide if the keto diet is right for you – and a few meal plan options perfect for beginners.
500+ Keto Meal Ideas & Recipes – Here's the link to my keto recipes index. As I mentioned earlier, you'll find everything from breakfast to dinner – plus holiday meals – It's a handy resource to bookmark!
Keto Flu: Symptoms, Remedies & Tips To Avoid Feeling Like Garbage – What you need to know about the keto flu – including common symptoms & remedies
Keto Food Swaps – If you've ever wondered what is the best keto alternative for sugar, flour, or pasta is, then this keto substitute guide has your back! The best low carb alternatives to unhealthy favorites like bread, flour, rice, potatoes, pizza, beer, wine, and even chocolate chip cookies.
Ultimate Guide To Low Carb Alcohol + Drinking On The Keto Diet – Here's the one where I share 34+ keto-friendly cocktails and pretty much everything you need to know about drinking + ketosis + keto-friendly alcohol + what to avoid
Keto Meal Prep 101 – Fabulous tips & tricks for making meals ahead and not spending all day in the kitchen!
50 Fabulous Make Ahead Keto Recipes – Struggling with finding easy meal prep recipes? Here's your go-to list of low carb meals to make meal planning breakfast, lunch and dinner easy!
40 Keto Crockpot Recipes – Speaking of meals, here's 40 fabulous low carb dinners for your slow cooker!
40 Keto Instant Pot – More of a pressure cooker fan? Here's some of my favorite fast Instant Pot meals
30+ Keto Dinner Recipes For When You Have Zero Time [30 Minute Meals] – When you need a healthy dinner – ASAP
Share or Save these Keto Recipes & Tips!
For More Low Carb Inspiration, Follow Me On Pinterest or Subscribe below! Leave A Comment, Ask A Question – Tell Me What's On Your Mind!
About Heather
First, thanks for sticking with me – I started this blog to help people like you take control of their health – achieve their fitness goals – lose weight – and gain the confidence they need to go out and live life to the fullest. (Because that's what losing 90 pounds on the keto diet did for me:) If you need help, please reach out. In addition to blogging full-time, I'm a Health Coach, and I'm a mom of three awesome kids – 2 girls & one precious son who happens to have autism.
I'm continually seeking balance to do all of the things – and I'd love to help you do the same.
You Can Find Me On Facebook.
I'm also on Pinterest.
And YouTube.
One day I may participate regularly on Instagram, who knows:)
–Heather