90 keto diet recipes for breakfast, lunch and dinner! Looking for a keto diet menu plan with tips for beginners? This free 30 day low carb meal plan is all you need to start losing weight on the keto diet!
This post may contain affiliate links that help keep this content free. [Full Disclosure]
If you're starting the ketogenic diet, it can be easy to get overwhelmed!
If you're a beginner, this guide will help you understand the basics of the ketogenic diet and help you kick-start your weight loss plan with 30 days of fabulous and delicious keto diet recipes for breakfast, lunch, dinner, and snacks in case you're into that sort of thing!
Now, I understand it's difficult when you're a beginner at anything, especially losing weight.
Six years ago when I started the keto diet, Pinterest wasn't a thing and information wasn't as readily available as it is today.
Still, it can be difficult to know who you can trust; if you're even dealing with a real person on the other side of the screen.
Well, I can guarantee you that I'm 100% real (Check out my low quality before & after pictures here!) and I did lose weight on the keto diet. 100 pounds. I want you to know the keto diet is legit. Keto is not just another trendy diet, and it's not easy, but it works.
Stick to the plan, and you will lose weight.
What is the Keto Diet?
Despite what the media may say, the Keto diet is not a trend! The ketogenic diet (keto for short) was developed in 1921 by Dr. Russell Wilder at the Mayo Clinic for patients with epilepsy. I won't bore you with all of the medical jargon, but along with the benefits for epileptic symptoms, doctors also noticed patients on the keto diet experienced decreased irritability and increased focus.
How Long Does It Take To Start Losing Weight On Keto?
Weight loss varies from one person to another because everyone's body is different.
If you have a lot of weight to lose (like I did), you may lose more in the first few weeks than your best friend, and, if you're a woman, you may lose weight at a slower pace than your husband or boyfriend. There are many factors that determine how much you will lose, but since I know you want an answer, I'll give you a ballpark figure, OK?
The average weight loss on the keto diet after the first week is usually around 10 pounds. Now please don't get too excited. This initial weight loss is mostly water weight.
You see, the keto diet causes you to drop the water weight fast because you're cutting your carbs dramatically. And while you may not be losing fat, this water weight loss is a good sign that your body has entered the ultimate fat burning mode: ketosis.
What Is Ketosis?
On the keto diet, you reduce your (net) carbohydrate intake to 20-30 grams per day.
Why?
It's all part of the plan to get your body into the state of ketosis or fat burning (also called fat-fueled) mode. When your body doesn't have the carbs to burn for energy, it turns to fat. When your body is in ketosis, it converts fat into ketones which become your body's new fuel source.
To stay in ketosis, you have to eat foods that are keto-friendly. Going keto isn't all that tough after you get used to it, but it can be a challenge at first.
Related: Keto Diet for Beginners: How To Meal Plan Your Weight Loss on The Keto Diet
What Are The Health Benefits of The Ketogenic Diet?
The ketogenic diet may be one of the most well-researched eating plans on the planet. (Which happens to be one of the reasons I landed on it when I was trying to find a diet that would work for me.)
Numerous studies have indicated that a ketogenic diet reduces factors for cardiovascular disease (diabetes, heart disease, stroke), and some suggest it to be beneficial for certain types of cancer.)
Ketogenic diets are also known to reduce the frequency of migraines and help increase energy levels. (I can vouch for both.)
There is so much more to keto than weight loss like better focus, stronger physical endurance, and radiant skin.
Even with all of these health benefits before you begin any diet plan, you should speak to your doctor. The keto diet works for me, but it's not for everyone.
Moment of Truth: There is no ONE diet that works for everyone, because we are all different!
I don't write exclusively about keto, even though it works for me, I'm passionate about it, and it is the most googled diet on the planet:)
But today, we are going all-in ketogenic, and I have collected over 90 low-carb recipes that are perfect for beginners – if you decide keto is right for you.
Two Ways to Lose It
1. If you want to take control and do all it yourself, I've created a food list for you that you can download for free as well as this 30-day meal plan that includes keto diet recipes for breakfast lunch and dinner. And snacks!:)

2. But if you're already too busy for words and you struggle with meal planning and you are overwhelmed with information, Tastaholics will do all the work for you and deliver fabulous weekly keto meal plans to your inbox along with a shopping list for the week's food!
Doesn't get any easier than that:)
Oh, and you can find over 500 – yes, 500 keto meal ideas and recipes here – for free.
Keto Diet Breakfast Recipes
Easy Breakfast Muffins with Sausage [Word To Your Mother Blog] Low carb, high protein muffins with 2 net carbs each!
Easy Low-Carb Keto Breakfast Casserole with Sausage [Food Faith Fitness] An amazing combination of sausage, eggs, red peppers, and pine nuts makes this is the perfect make-ahead healthy breakfast!
Keto Taco Breakfast Skillet [Peace, Love and Low Carb] Quick and easy low-carb meal prep for busy mornings!
Super Easy Egg Keto Breakfast Muffins [Word to Your Mother Blog] Perfect for busy mornings & meal prep! Delicious low carb egg, bacon, and spinach muffins with bell pepper and onions!
Keto-Gluten Free English Muffins In A Minute [Low Carb Yum] If you miss bread you'll love these english muffins that can be whipped up in a few minutes! Eat them alone or with a couple of eggs and a slice of bacon! Yum!
Avocado and Salmon Low Carb Breakfast [The Nourished Caveman] Surprisingly simple to prepare, this Avocado and Salmon keto diet recipe offers a healthy amount of saturated fats. Treat yourself to this delicious breakfast!
Oven Baked Eggs Recipe [Savor+Savvy] Oven Baked Eggs are an example of easy meal prep at it's finest! All you need are a dozen eggs and a muffin pan. Oh, and fifteen minutes!
Ultimate Breakfast Roll Ups [Ruled.Me] The ultimate keto diet fast food recipe! Made with eggs stuffed with bacon, sausage, and cheddar cheese!
Low Carb Keto Breakfast Burrito Bowl Recipe [Ketogasm] If you're a fan of burritos (and who isn't?) you'll love this burrito bowl for breakfast keto diet recipe that combines taco meat, cilantro cauliflower rice, and scrambled eggs. Sound amazing? It is.
Mexican Breakfast Casserole [Keto Diet App] One of my favorite keto diet recipes! The Mexican Breakfast Casserole only takes 20 minutes (hands-on) time to prepare and it's fabulous for weekends or large family gatherings! If you're not a fan of specialty food products you'll love this recipe as it doesn't call for anything out of the ordinary!
Keto Diet Recipes | Lunch
BLT Chicken Stuffed Avocados [The Garlic Diaries] Packed with flavor combining ingredients like turkey bacon, rotisserie chicken, Roma tomatoes, cottage cheese, romaine lettuce and, obviously, avocados! If you haven't tried this stuffed avocado recipe let me tell ya, you are missing out!
Chipotle Pulled Pork Lettuce Wraps With Avocado Aioli [Fashionable Foods] Using leftover delicious slow cooker chipotle pulled pork (See Dinner Recipes) all this keto recipe requires is stuffing lettuce wraps and topping with avocado! The Aioli is super simple too!
Cheddar-Wrapped Taco Rolls [Wicked Stuffed] Keto, grain-free taco rolls are a lot like burritos; without the carbs! The "crust" is made of cheddar cheese and the rest is the perfect combination of seasoned taco meat, tomatoes, and avocado.
Vegetarian Keto Club Salad [Ruled.Me] Looking for vegan keto diet recipes for lunch? Give this one a try! With cheddar cheese, romaine lettuce, cherry tomatoes, diced cucumbers, hard boiled eggs and a savory seasoned dressing this vegetarian salad will keep you fueled and filled throughout the day!
Avocado Egg Salad [Diethood] This avocado egg salad is mayo-free made with crunchy bacon, dill, green onions, lime juice, and yogurt!
Vegan Crack Slaw [Meat Free Keto] For a vegetarian keto lunch try this vegan version of the famous crack slaw recipe made with green cabbage and macadamia nuts. Seasoned with chili paste, sesame oil, garlic, and green onions this recipe is just as addictive!
Fresh Tuna Salad Recipe [Nancy Ferrer] Full of healthy fats this fresh tuna salad will definitely not disappoint! Made with tuna, Roma tomatoes, cucumbers, purple onions, a little mayo, and a pinch of sea salt this tuna salad is one of my favorite clean eating keto diet recipes!
Spicy Thai Chicken Zoodle Soup [Fashionable Foods] Tasty and healthy way to get your vegetables! Plus, it only takes 30 minutes total to prepare!
Fresh Sriracha Broccoli Salad [Wicked Stuffed] Fabulous way to stay full for lunch! This broccoli salad is as tasty as it looks with fresh broccoli, red peppers, cheddar cheese, sunflower seeds, and bacon.
Keto Diet Recipes | Dinner
Caprese Hasselback Chicken [Low Carb Maven] Make this fabulous hasselback chicken with mozzarella, Roma tomatoes, fresh basil, olive oil, and balsamic vinegar in under 30 minutes! One of our favorite keto diet recipes by far!
Slow Cooker Chipotle Pulled Pork [Fashionable Foods] Full of flavor and super easy! Use the leftovers for a variety of keto diet recipes like the Chipotle Pulled Pork Lettuce Wraps!
Sheet Pan Roasted Asparagus & Chicken With Chorizo [Eat Drink Paleo] This sheet pan meal comes together in under 30 minutes using chicken, asparagus, and delicious herbs and spices.
Easy Cashew Chicken [Keto Connect] If you don't have a lot of time, but you are starving for a home-cooked meal, try this Easy Cashew Chicken that comes together in 15 minutes!
Ketogenic Diet Recipes | Snacks
String Cheese: Cheese has a healthy combination of protein and fat. For the Keto diet make sure it's full-fat version without added carbs!
Nuts: Almonds, walnuts, and macadamias are a heart-healthy low-carb fave! Be careful to eat in moderation!
Avocado: Keto-friendly avocados are full of fiber and potassium as well as monounsaturated fatty acids
Pickles: Easy & quick keto snack
Bacon
Pepperoni Slices
Laughing Cow Cheese
Pork Rinds
Parsnip Chips Trader Joe's chips are a delicious on the go salty keto snack!
DiMario Snack Sticks Absolutely the best when you're on the go!
Righteous Felon Beef Jerky If you want to up your beef jerky game this is how! Righteous Felon Beef Jerky Cartel specializes in beef jerky & has been featured in tons of foodie magazines! It's SO good!
Keto Bars Hands down the best! The only ketogenic bar that's low carb & intentionally high in fats so you stay fueled & full. And they taste amazing!
Keto Snacks – Delivered!
Need the easiest option for snacks? Be sure to check out Keto Krate! They send you new keto snacks every month – with 5 net carbs or less!
Snack Recipes
Ok. So you've got 30 days of recipes. Now you need a plan. Have you set your weight loss goals? No, I wanna be skinny doesn't count!:) Read this & get started now! Check back & let me know how things are going!
The Ultimate Keto Shopping List That Makes Life Easy [Grocery List + Printable PDF]
Navigating the grocery store for the first time on the keto diet can be a little confusing for beginners! This keto shopping list and free Keto Grocery List Printable PDF will guide you through every department, so you'll know exactly what foods are keto-friendly and what you need to put in your shopping cart! Need a keto snack-ASAP? Don't miss the keto snack section where I'll share all the best ketogenic snacks you can buy right now on Amazon.
Save Money On Healthy Food
Check out Thrive Market! If you haven't shopped at Thrive, you need to start. You can find keto-friendly foods fast by typing keto into their search tab and get fabulous deals – online – in your PJ's:) I wish I had known about Thrive sooner. Better late than never, right?
Need More Legit Almost Too Good To Be True Keto Recipes?
I get it! I've lost 100 pounds on the keto diet & maintained that weight loss for six years & these meal plans & recipes helped me a TON.
Shout Out To Tastaholics Weekly Meal Plans & Keto In Five cookbooks!

About the weekly meal plans – Tastaholics will send you pre-calculated, low carb meal plans and recipes right into your inbox – no more hunting down recipes on the internet and trying to fit them together perfectly every day.
They make the keto diet easy – for real. And you can try it totally free right here
Or – opt for the Keto In Five – (These Are Not your Grandmother's Cookbooks-You Can download Them To Any device!)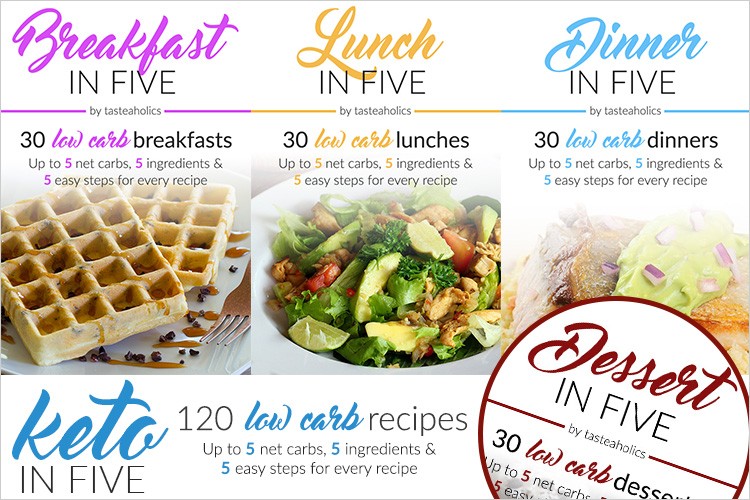 Each collection offers 30 breakfasts, 30 lunches, 30 dinners & 30 desserts with only five ingredients & 5 net carbs! They provide all the macro info for you – which makes life so much easier!
Go ahead & try the meal plans or grab the Keto In Five Bundle! You've got nothing to lose, but weight. They offer a 365 Day money-back guarantee, but you won't need it:) Ok – sales pitch over:)
Did I Miss Anything?
Do you have enough information to decide if the keto diet is right for you?
Or are you still on the fence?
Either way, please let me know by leaving a comment below!
Don't Miss These Keto Recipes + Tips:
Please Save & Share!
For More Low Carb Inspiration, Follow Me On Pinterest or Subscribe below! Leave A Comment, Ask A Question – Tell Me What's On Your Mind!
About Heather
SaveSaveSaveSave
First, thanks for sticking with me – I started this blog to help people like you take control of their health – achieve their fitness goals – lose weight – and gain the confidence they need to go out and live life to the fullest. (Because that's what losing 90 pounds on the keto diet did for me:) If you need help, please reach out. In addition to blogging full-time, I'm a Health Coach, and I'm a mom of three awesome kids – 2 girls & one precious son who happens to have autism.
I'm continually seeking balance to do all of the things – and I'd love to help you do the same.
You Can Find Me On Facebook.
I'm also on Pinterest.
And YouTube.
One day I may participate regularly on Instagram, who knows:)
–Heather
SaveSave
SaveSave
SaveSave
SaveSave
SaveSave
SaveSave
SaveSaveSaveSaveSaveSave
SaveSave
SaveSave
SaveSave
SaveSave
SaveSave
SaveSave