One of the things I love most about the keto diet is the variety of delicious and easy keto recipes. Breakfasts, lunches, snacks, dinners, and desserts-you name it; there's a fabulous low carb recipe ready to fill you up or curb any craving. But sometimes I forget that it took time to find these easy keto recipes. I have been on the keto diet for over six years! So, today I'm sharing all of my favorite recipes in one place to make life a little easier for you! I'm going to start with breakfast and work my up to dessert. All together I have over 500 easy keto recipes.
Yes, 500!
These are the keto recipes I used to lose weight & still use every week to maintain my weight loss. Since we're counting, I've lost right at 90 pounds on the keto diet. It took dedication, but let me tell you, it was worth it! (Evidence the keto diet works-AKA my Before & After Photos.)
Once I found the right recipes and got my momentum going, I felt absolutely unstoppable on keto. I've said this before, but it's worth repeating. The keto diet changed my life and the way I looked at food. And I never felt starved or deprived. When you add up all of the delicious dinners, cream cheese filled fat bombs, and decadent chocolate desserts keto doesn't really feel like a diet at all!
This post may contain affiliate links. For more information please visit my disclosure page here.
We all know breakfast is the most important meal of the day, but it's also the craziest most hectic time of the day. If you're trying to lose weight on the keto diet, and mornings aren't your jam, then you seriously need a few easy breakfast recipes that you can make ahead! Otherwise, you're setting yourself up for diet failure before the day has even gotten started!
Here are 16 easy keto recipes to add to your weekly meal prep or plan. Of course, I've included a few breakfast casseroles, because they're the perfect make-ahead recipes and Y'all, I'm from Mississippi-we live on casseroles here:) You can prep most of these on Sunday and then there will be next to nothing to do but eat when you wake up. Which is the idea, right?
If you've ever seen a decadent cake or keto pancake recipe and wondered how is that even possible? I'm about to let you in on a not so secret weapon on the keto diet: almond flour. And the keto almond flour recipes for the foods you thought were forbidden! From breakfast muffins and cinnamon rolls to brownies, keto bread and snack crackers these 21 almond flour recipes are absolute game changers for anyone on the keto diet!
Keto fat bombs will be your not so secret weapon on the ketogenic diet! On a typical diet eating something called a fat bomb seems wrong. But when you're on the keto diet, fat bombs are your best friend! High in healthy fats, these convenient, delicious treats make excellent breakfasts, snacks, desserts or meal replacements.
There are over 178,000 varieties of keto fat bombs. Just kidding. But there is an enormous selection of flavors ranging from sweet, fruity lemon fat bombs to chocolate peanut butter to savory avocado and bacon. And yes, in case you're wondering, all of these fat bomb recipes are covered in this collection of recipes!
If you're on the ketogenic diet, the last thing you want to do is throw your body out of ketosis! These keto snacks will help you stick to your plan!
Snack much? I prefer to call it grazing. No matter what you call it, you need to stock up on low carb snacks if frequent trips to the kitchen are part of your routine! Here's a collection of the best keto snacks including no prep grab & go snacks, snacks you can buy on Amazon right now, and easy keto snack recipes! Don't let one moment of weakness derail your diet and throw your body out of ketosis! You worked too hard to allow that to happen!
Here's a collection of 40 keto appetizers that are fabulous for any occasion, but this post leans in the direction of game day! If you're looking for wings, dips, cheese sticks, bacon-wrapped appetizers, sliders, keto-friendly crackers; pretty much anything you can imagine eating at a Superbowl Party-this is your one-stop shop!
This lineup includes the best keto and low carb smoothies like strawberry, mint, green, coffee, cherry, raspberry, pumpkin, berry, cheesecake, blueberry, key lime, and chocolate! Protein filled smoothies make excellent breakfasts, meal replacements, snacks, and desserts!
These 35 keto recipes to meal prep for breakfast, lunch, dinner, and snacks make losing weight on the keto diet delicious and easy! From crockpot meals to make-ahead breakfasts and on the go lunch ideas, these low carb keto recipes for meal prep will make you look forward to meal prep Sunday!
Seriously, I know you've heard meal prep is a game changer and you may think you've heard it all, but you haven't! Read this! At the very least you'll get 21 amazing easy keto recipes at the end of the article. Best case scenario? You finally figure out how to do this keto thing on a budget & stop stressing out over meal planning.
26 easy keto recipes with chicken! (One of the most budget-friendly ingredients you can use on the keto diet!) Most of these recipes are quick & easy 30 minute meals, and there's a few crockpot recipes that make the best leftover lunches!
If I could get away with using my crockpot & Instant Pot every day I probably would. Both make my life so much easier! These keto crockpot recipes will do the same for yours! No matter what the weather may be these easy crockpot meals have dinner covered!
In case you didn't know an Instant Pot is like a crock pot (or slow cooker) on steroids. For example, my Instant Pot DUO cooks a chicken thigh recipe that takes 6-8 hours in the slow cooker in 30 minutes. Boom. Instant Pot Gratification. Here are 40 examples/recipes of the Instant Pot at it's finest!
You're going to love these keto soup recipes! Most are either easy crockpot set it and forget it kind of dinners or twenty-minute numbers nobody will believe are "diet." Please enjoy!
Keto casseroles? Is that a thing on the low carb ketogenic diet? Yes! When you're short on time and high on hunger these keto casserole recipes are going to save your life. Ok, maybe that's too much. But these easy filling recipes may save your diet and they'll definitely save your sanity and budget! If you thought you'd have to go without fabulous and simple time saving casseroles on the keto diet these 26 keto casserole recipes are here to prove you wrong!
Dinner in 30 minutes or less? YES! Delicious, Insta-worthy easy keto recipes that take 30 minutes or less from start to finish. From Chili Lime Steak Fajitas and Beef and Cabbage Stir Fry to Asparagus Stuffed Salmon and Creamy Tuscan Garlic Chicken there's something for everyone & every craving!
More easy keto dinner recipes! With more of a focus on family this collection of easy keto recipes features favorites like Keto Lasagna, Pizza Casserole, Pork Chops, and a Buffalo Chicken Jalapeno Popper Casserole that you won't believe is "diet."
The best keto side dish recipes to accompany any main course! From cauliflower mac & cheese, broccoli gratin and zucchini fries to green bean casserole, Balsamic Brussels Sprouts, lemon garlic spaghetti squash, and easy bacon wrapped asparagus these keto side dish recipes will take your dinner to a new level.
30 easy keto recipes for breakfast, lunch & dinner! A full month of low carb recipes for every meal of the day! From on the go breakfasts to packable lunch ideas to awesome keto dinner recipes the search for easy keto recipes is over!
I'm not 100% positive but I think I may have selected the keto diet to lose weight because I could eat fabulous desserts without guilt. If you love dessert half as much as I do then prepare to be amazed by these 22 brilliant chocolate keto dessert recipes that taste anything but diet!
16 flavors of keto cheesecakes that are nothing short of amazing! Whether you are entertaining a crowd or want a sweet treat for yourself, these easy keto recipes are the perfect blend of cream cheeses, chocolate, peanut butter, salted caramel, lemon, blueberry, and ten other decadent dessert combinations.
Need More Keto Recipes?
Check out the Keto In 5 Bundle Check out the Keto in 5 bundle from Tastaholic's! 120 low carb recipes for breakfast, lunch, dinner, and dessert-all under 5 Net Carbs, with 5-ingredients or less, & only 5 easy steps! Click here for more info!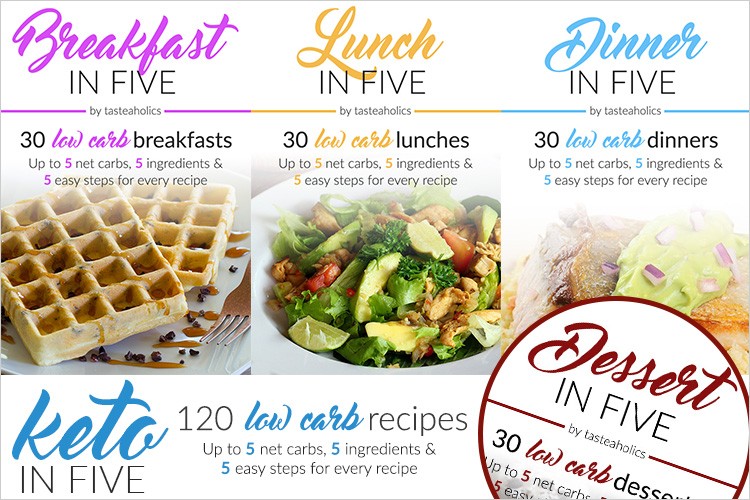 Please feel free to share your favorites in the comments and as always if there is anything I can do to help let me know!
Save or share these easy keto recipes on Pinterest!
For even more ketogenic recipes, follow my board Keto Recipes!